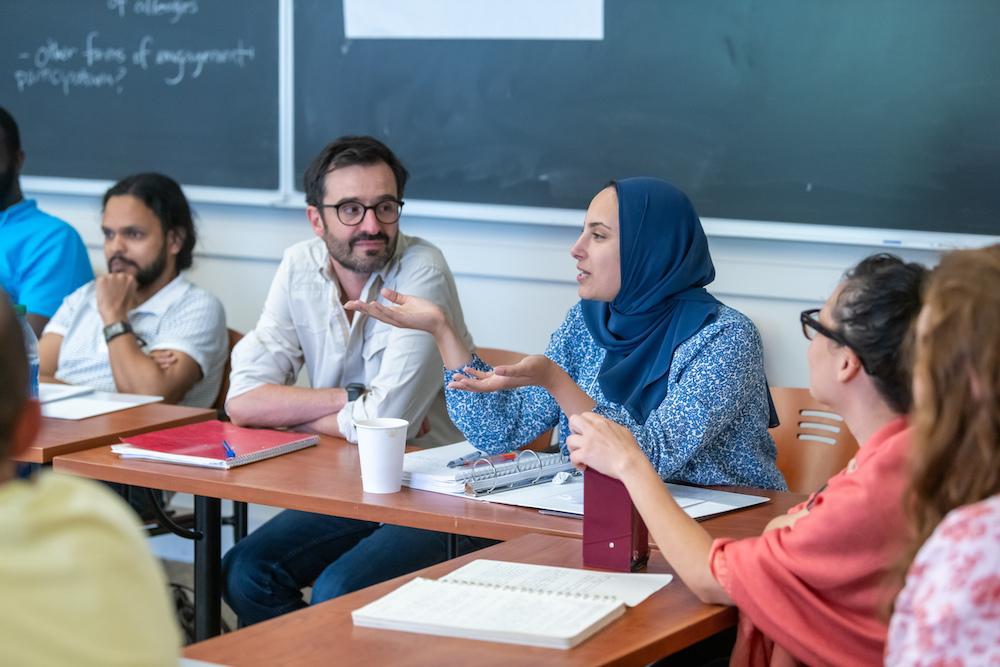 About Our Workshops
IWT workshops are interactive, collaborative, and writing-rich. We don't just talk about writing-based teaching; we read and write together, modeling how we might use writing practices with our students in the classroom. Workshops are designed in close consultation with administrators and teachers to ensure that they address teachers' needs and priorities. Our goals are to help teachers meet outside assessment standards while also addressing the individual needs of students and to support teachers' creative autonomy in the classroom.
Our workshops introduce methods that help students:
• discover and interpret meaning;
• engage in productive dialogue;
• learn critical thinking skills;
• develop academic writing skills;
• experience the benefits of collaborative learning;
• become reflective learners who appreciate multiple perspectives; and
• value the role of both persistence and failure in the learning process.
Some of our recent partners
Al-Quds Bard College for Arts and Sciences (East Jerusalem)
American University of Afghanistan (Afghanistan)
American University of Central Asia (Kyrgyzstan)
Ashesi University (Ghana)
Asheville School (North Carolina)
Bard College Berlin (Germany)
Bard College at Simon's Rock (Massachusetts)
Bard High School Early Colleges (multiple locations)
Beacon Place Community Center (Illinois)
Benet Academy (Illinois)
Berkshire School (Massachusetts)
BRAC University (Bangladesh)
Branford High School (Connecticut)
Brentwood School (California)
Brighton High School (New York)
Bronx High School for the Visual Arts (New York)
Byram Hills High School (New York)
Columbus School for Girls (Ohio)
Crossroads School (California)
Dalton School (New York)
Emma Willard School (New York)
The Episcopal Academy (Pennsylvania)
European Humanities University (Lithuania)
Excel Academy Charter High School (Massachusetts)
Fairfield University (Connecticut)
Fort Worth Country Day (Texas)
Fountain Valley School (Colorado)
Friends Academy (New York)
The Frisch School (New Jersey)
Front Range Community College (Colorado)
Fulbright Foundation (New York)
Greenwich Academy (Connecticut)
Greenwich High School (Connecticut)
Harwood Union High School (Vermont)
Havergal College (Canada)
Herbert H. Lehman High School (New York)
The Hockaday School (Texas)
Holy Names Academy (Washington)
Horace Mann School (New York)
Irvington School District (New York)
Jack Kent Cooke Foundation (Virginia)
Jesuit High School Sacramento (California)
John Jay High School (New York)
Kent Denver School (Colorado)
Kingston High School (New York)
La Salle College High School (Pennsylvania)
Lincoln High School (South Dakota)
Lincoln School (Rhode Island)
Northfield Mount Hermon (Massachusetts)
Northwest Academy (Oregon)
Norwalk Community College (Connecticut)
Parami University (Myanmar)
Paul D. Schreiber High School (New York)
Pitzer College (California)
Poly Prep Country Day School (New York)
Pomfret School (Connecticut)
Princeton Day School (New Jersey)
Principia College (Illinois)
Queensbury High School (New York)
Randolph School (Alabama)
Ridgewood High School (New Jersey)
Rye Country Day School (New York)
SUNY Ulster (New York)
SUNY Westchester Community College (New York)
St. John's University (New York)
St. Michaels University School (Canada)
School of the Art Institute of Chicago (Chicago)
Stevenson School–Pebble Beach Campus (California)
Trinity School (New York)
Union-Endicott High School (New York)
University of Illinois Urbana-Champaign (Illinois)
University School of Milwaukee (Wisconsin)
University School–Shaker Heights Campus (Ohio)
Walnut Hill School for the Arts (Massachusetts)
William Penn Charter School (Pennsylvania)
Williams College (Massachusetts)
Woodstock Union High School (Vermont)
Contact Us about Bringing IWT to Your School
Please reach out to Assistant Director Michelle Hoffman ([email protected] | 845-758-7432) or Program Manager Rebecca Chace ([email protected] | 845-758-7544) to inquire about bringing a customized on-site workshop or professional development program to your school.
Some of the ways that we work with schools and colleges
On-site Workshops

Our foundational workshops (see below for a partial list) provide an introduction to IWT's writing-based teaching strategies. They can be discipline-specific or multidisciplinary. On-site workshops can be one, two, or three days long, depending on their goals and scope. International on-site workshops are usually one week long.

Online Workshops

We offer online workshops that model how IWT writing-based teaching practices can be effectively integrated into hybrid and online teaching. Online workshops include the introductory workshops listed below as well as more targeted workshops focusing on online and connected learning. Write to us to schedule a time to talk about your school's specific needs:

[email protected]

On-site Workshop Series

For schools interested in building a deeper familiarity with writing-based teaching methods, we design workshop sequences that progress from introductory workshops to more advanced workshops that might focus on revision strategies, discipline-specific writing-based teaching practices, or reading and responding to specific texts.

Embedded Professional Development Programs

IWT also works with schools and school districts to offer extended professional development (PD) programs. A PD program typically involves a scaffolded sequence of workshops offered over the course of a year or more. PD programs begin with a needs assessment and classroom observations to ensure that our workshops address teachers' needs and goals.
Which workshop should we start with?
In most cases, if teachers are new to IWT writing-based teaching methods, we suggest beginning with Writing and Thinking or Writing to Learn. Our discipline-specific workshops can also be tailored to first-time participants. See the workshop descriptions below or reach out to us by phone or email to discuss what option works best for you.
What is the difference between a one-, two- or three-day on-site workshop?
The main difference is the depth and range of practices that can be introduced. Because workshops model collaborative reading and writing practices, the pace is intentionally slow. When possible, we recommend beginning with a two-day workshop. One-day workshops typically begin with exploratory writing and writing-to-read strategies, whereas two- and three-day workshops might also explore the drafting and revision process. International on-site workshops are usually four or five days long.
What workshops do you offer online?
All our workshops can be offered both in person and online. Some of our most popular workshops are listed at the bottom of this page. Please contact us to inquire about workshops with a particular focus on online and hybrid teaching modalities.
Can I bring one of your Writer as Reader or July Weeklong Workshops to my school?
Yes! We are happy to discuss how we might adapt one of our Writer as Reader workshops or July Workshops for your faculty.
Our Most Popular On-Site Workshops
Writing and Thinking
This workshop is a good starting point for faculty who are mostly new to IWT writing practices and who wish to focus on how they guide students through the writing process. This foundational workshop introduces participants to IWT's writing-based teaching practices, while giving participants an opportunity to reflect on how they approach their own writing, as well as how they teach writing. The goal is to create, nurture, and sustain a writing-based classroom. The workshop is communal and collaborative: teachers read and write together, exchange ideas, and respond to one another's work. Through these activities, teachers become more aware of the scaffolding behind the composing process and better perceive the roots of their students' struggles to produce expressive and engaged writing. Teachers of all subjects who want to understand how shared writing practices can generate rich thinking and learning are invited to participate
Writing to Learn
This workshop is a good starting-point for multidisciplinary groups of faculty who are mostly new to IWT writing practices and who wish to focus on how writing-based teaching practices can enrich learning in different subject areas. Like Writing and Thinking, Writing to Learn introduces participants to IWT's foundational writing-based teaching practices, but with a particular emphasis on their application to specific disciplines. This workshop models writing strategies that help students explore a variety of texts such as historical primary sources, literary texts, essays from the social sciences, and STEM texts. These writing-to-learn practices support close reading, encourage students to learn from one another, and help students make personal connections to the people, places, and concepts they study. We will explore how writing-to-learn practices can reshape how we teach and how the academic lecture, collaborative learning practices, and the act of listening can reinforce one another within the classroom.
Thinking Historically through Writing
This workshop is designed for teachers of history, global studies, and social studies. It can serve either as an introductory workshop or as a follow-up to Writing and Thinking or Writing to Learn. It introduces participants to writing-to-read strategies for analyzing primary historical documents, secondary texts, and visual artifacts in order to help students learn how historians interpret evidence and construct stories based on their interpretations. How can teachers help students encounter historical texts in a way that makes them more nuanced, critical readers of history? More important, how can teachers help students see that history is relevant to them personally—that they operate within a historical context and have the power and agency to make historical change? This workshop will explore writing as a means to help students gain a richer appreciation of the past, to discover a world that differs from the present, and to grapple with different—and sometimes conflicting—interpretations of key moments in history.
Writing to Learn in the STEM Disciplines
This workshop can serve either as an introductory workshop or as a follow-up to Writing to Learn. It introduces writing-to-learn strategies that help students develop their understanding of complex ideas in science and mathematics. In STEM classes, writing is most often used to assess what students know—or don't know—on tests, lab reports, and assignments. By contrast, this workshop focuses on using writing as a tool for constructing knowledge. It explores how writing can help students find points of entry into challenging texts and concepts, interrogate their understanding when it is still tentative or mistaken, and revise their thinking. Working together, participants experiment with collaborative and exploratory writing prompts that foster close reading of scientific and mathematical texts, problems, and images. In addition, we explore how writing practices can deepen engagement and spark curiosity—an important first step in becoming more invested in the process of solving a problem, reasoning through an explanation, or carrying out an experiment.
Inquiry into Essay
This workshop is designed for teachers who are familiar with the strategies introduced in Writing and Thinking or Writing to Learn (or in similar workshops elsewhere) and who want to focus on coaching students through the drafting and revision process. Its focus is writing-to-learn practices designed to guide students through drafting and revising analytic essays. Writing together, we experiment with the kinds of exploratory writing that can help students find points of entry into challenging texts, explore and articulate their readerly perspective, and affirm their ability to uncover fresh insights. The workshop highlights strategies for pulling together fragments of good writing into a coherent whole and practicing the kinds of inventive and exploratory writing that can produce a draft. Note: Due to its scope, Inquiry into Essay is most effective as a two-day workshop.
Writing-Based Teaching and Antiracist Pedagogies
This workshop, designed for teachers of all disciplines, uses IWT's foundational writing practices to explore how writing-based teaching can help foster an intentionally antiracist, equitable, and inclusive classroom community. Reading and writing together, participants will explore ways to think about race and identity within our classrooms and practice strategies to support nuanced and thoughtful discussions. We will also consider ways to navigate history, language, and trauma in texts from diverse disciplines and contexts. In order for teachers and students to co-create antiracist learning communities, the workshop will model collaborative, interdisciplinary activities that encourage self-reflection, invite active listening, and cultivate a more expansive and inclusive classroom environment.
Revolutionary Grammar
Everyone—inside and outside the academic community—has an opinion about grammar. Parents, CEOs, and, of course, teachers worry that students graduate from high school and college without understanding the rules of grammar. But what does it mean to know grammar? If it were simply a matter of learning rules, teachers would not be struggling to correct grammar in paper after paper. In any case, basic grammatical rules don't stick. This workshop looks at both the philosophical and practical questions surrounding the teaching of grammar and investigates connections between philosophy and pedagogy. Using diverse literary texts and our own writing, we ask what grammar is, what it is for, how it contributes to the making of meaning and to creative expression, and how it can be taught using the fluid models for teaching writing that we value. Participants learn practical approaches to teaching grammar that do not focus on rules but rather draw on students' intuitions and habits as writers. This workshop is for teachers of English, composition, and grammar, and for any teacher who addresses issues of grammar. Note: Revolutionary Grammar requires at least two days as an on-site workshop.
Reflective Writing for Agency, Equity, and Community
In How We Think (1910), John Dewey writes that when we are faced with a difficulty or dilemma, "we metaphorically climb a tree; we try to find some standpoint from which we may survey additional facts and, getting a more commanding view of the situation, may decide how the facts stand related to one another." We achieve this more commanding view through our capacity for reflective thinking, which helps us recognize not only how concepts connect to one another, but also how we, as learners, relate to those concepts. Process writing, a cornerstone of IWT's writing-based teaching, is an essential reflective practice. We make space for reflection at the end of most writing sequences; it is an opportunity to assess how our initial thoughts have evolved by exploring them in writing and by hearing the writing of our peers. We flip through the pages in our notebooks and trace our steps back through the movement of our minds to understand both process and content. Reflection paves the way for us to approach the next learning experience with a better sense of how we make meaning; it sharpens critical thinking and normalizes struggle. This workshop will investigate the principles and practices of metacognitive writing and focus on how to make process writing integral to our teaching. We will interrogate our goals as educators, and explore how reflective practices can foster equity and community in our classrooms. We will work across genres and disciplines, exploring how reflective practices can enrich both academic and creative writing. From small-scale daily work to playful and collaborative activities that promote democratic learning communities, we will explore what can happen when we make reflection central to our students' learning.